I've been searching a long time for the most perfect yet extremely easy, no fail snickerdoodle recipe because making snickerdoodles scares me. Seriously, it does because it's a sugar cookie like dough which is rolled in cinnamon sugar and baked. And well I suck at making sugar cookies. However I think I finally found the best, easiest, no fail snickerdoodle recipe! It's
Mrs.Sigg's Snickerdoodles on allrecipes.com
. It's the easiest snickerdoodle recipe I've ever seen and practically no fail. Thanks to the addition of shortening instead of all butter, like in other recipes, which helps keep the dough stable and non sticky for hand rolling. However, I did sub out the cream of tartar since I had no idea how old mine was. A little reading online about snickerdoodles turned up information about using white vinegar instead of cream of tartar.
Mrs.Sigg's Snickerdoodles
with a slight modification
Makes 4 dozen large cookies with approx. 92 calories per cookie!
You will need the following cooking equipment:


Large mixing bowl


Medium mixing bowl


Mixing spoon


whisk


Measuring cups


Measuring spoons


small mixing bowl


small glass or tea cup for smooshing cookie balls


Cookie sheet, preferably 2


Ingredients you'll need are:


.5 cup butter, softened at room temperature


.5 cup shortening


1.5 cups white sugar


2 eggs


2 teaspoons vanilla extract


2 teaspoons white vinegar


2 3/4 cups all-purpose flour


1 teaspoon baking soda


1/4 teaspoon salt


2 tablespoons white sugar


2 teaspoons ground cinnamon


Step 1: Preheat oven to 400F.
Step 2: Cream together the shortening, butter and 1.5 cups of sugar in large mixing bowl.
Step 3: Add the eggs, vanilla and vinegar to the sugar & butter mixture. Set aside.
Step 4: In medium mixing bowl, whisk or stir together flour, salt, and baking soda.
Step 5: Add mixed dry ingredients to the butter sugar mixture and stir to combine. Set aside.
Step 6: In small mixing bowl, mix together the cinnamon and remaining 2 tablespoons of sugar.
Step 7: Then pinch dough and roll into balls about 1.5 to 2 inches in size. Then lightly roll dough ball in cinnamon sugar mixture so it's coated all over and place on
ungreased
cookie sheet.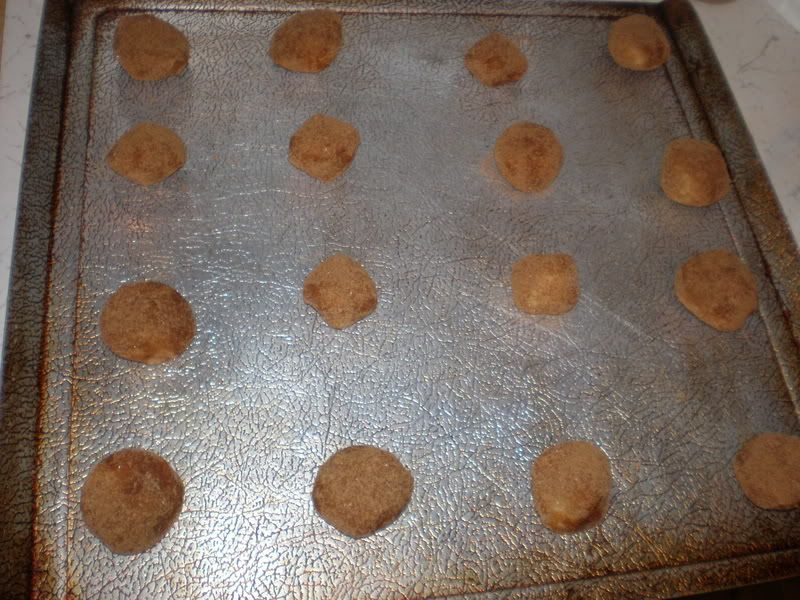 Step 8: Using your small glass or tea cup, lightly smoosh down and flatten the dough balls.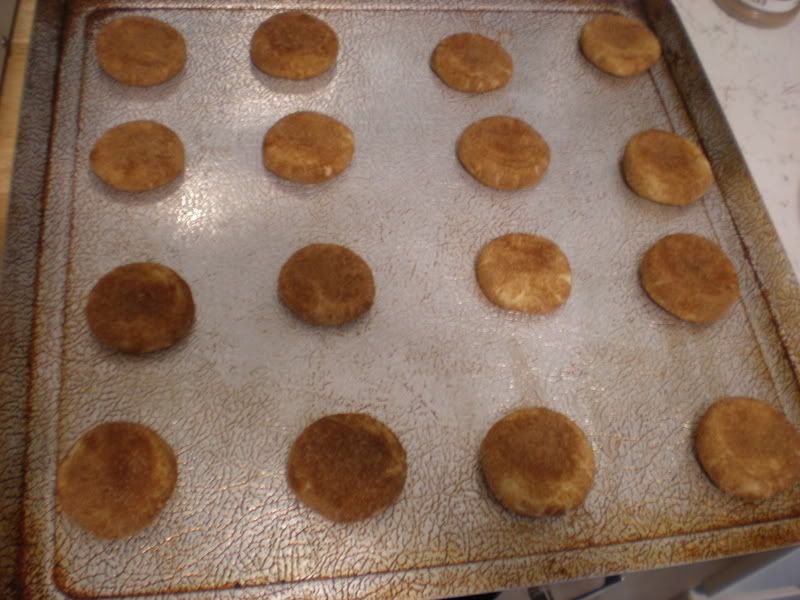 Step 9: Bake in oven for 8-10 minutes. Remove from oven. The dough should be set but not overly crisp.
Note: Cookies will look a bit puffy when you remove them from the oven but flatten & crinkle as they cool.
Step 10: Remove from cookie sheets and place on cooking rack or plate to cool.
Then munch and enjoy!
These cookies store well in a tightly sealed tin or ziplock bag for one week. I couldn't test for staleness beyond a week because they were eaten up pretty quickly!! Enjoy!
I know it's been awhile, a long while, since I last updated. Life has its way of throwing curveballs at you when you least expect it and Valentine weekend was no exception. That weekend my last guinea pig, Anya, unexpectedly died which left a huge empty hole in my and my family's hearts. So I took a break from blogging and internet usage for awhile but now I'm back and I have a new recipe too.
Current Mood:

accomplished