Today I present to you, my own recipe for a quick basic pasta sauce. This sauce is good on plain pasta, on pizza, in various baked pasta dishes, etc. I've been making and refining this sauce for almost 20 years now. I think I've finally found the perfect amounts of seasoning, herbs, onion and garlic that make this such a delicious and versatile sauce. This basic sauce can also be made into a meat sauce too. Just add the ground meat with the veggies in the beginning and cook til meat is brown.
My Simple Quick Pasta Sauce
Makes approx. 10 cups.
You will need the following cooking equipment:


Large stockpot, at least 6 quarts


Long handled spoon for stirring


Measuring spoons


Ingredients you will need are:
and


28oz can of tomato puree


28oz can of whole tomatoes in juice


6oz can of tomato paste


one large green pepper, seeded and chopped


one large onion, chopped


3 cloves garlic, minced or chopped


1 tablespoon olive oil


1-1.5 tablespoons Italian seasoning blend (thyme, rosemary, basil, oregano)


1 teaspoon garlic powder


1 teaspoon onion powder


1 teaspoon salt


.25 teaspoon crushed red pepper flakes


1 bay leaf


2-4 tablespoons sugar, depends on taste of sauce


Step 1: Add chopped green pepper, onion and garlic to pot with one tablespoon olive oil. Turn heat onto medium high.
Sautee for 8-10 minutes while stirring frequently to prevent garlic from burning. Onions will get slightly translucent and may start to caramelize a bit which is ok.
Step 2: Add the tomato juice from the whole tomatoes. Then using your spoon, crush the whole tomatoes into bits. Add bits to pot. Stir.
Step 3: Add tomato puree. Stir.
Step 4: Add tomato paste and stir in.
Step 5: Take one of your empty 28oz cans, fill with water and add to pot. Stir to combine.
Step 6: Add Italian seasoning, garlic powder, onion powder, salt, red pepper flakes, bay leaf, and
only
2 tablespoons of the sugar.
Step 7: Once it starts simmering, lower heat to low, stir frequently and continue to slow simmer for one hour.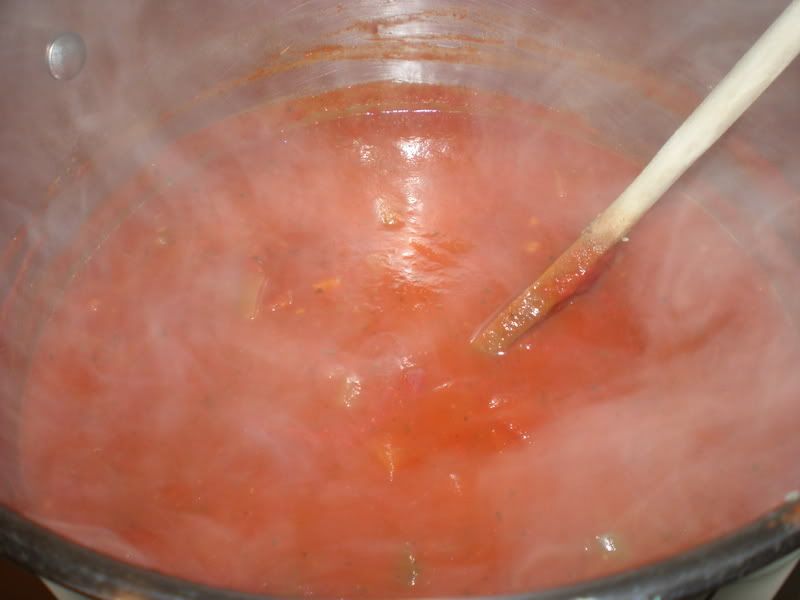 Step 8: After an hour of simmering, taste the sauce. If the sauce tastes fine then shut off heat--it's done! If the sauce tastes too bitter, add 1 tablespoon sugar, simmer for 10-15 minutes then taste again. If still bitter, add remaining 1 tablespoon sugar and simmer for another 10-15 minutes then taste. Sauce should have a slight sweet yet herby note.
Sauce can be safely stored for 7-10 days in an airtight container and reheated in the microwave or on the stove. This makes enough sauce for one 9"x13" tray of lasagna with some sauce left over. Or one pasta dinner for 6-8 people with enough sauce leftover for 3--12" pizzas. Enjoy!
For today's recipe, I thought I would focus on the very basics for a quick and simple yet delicious homemade pasta sauce. I first learned how to make pasta sauce from my dad when I was 12 years old. I was so surprised that a quick pasta sauce could be so simple and so yummy yet for years my parents had always purchased jarred sauces. I also refined the basics that my dad taught me by experimenting with different amounts of spices and herbs as well as varying amounts of garlic and onion. I also watched and talked with other relatives while they made pasta sauce to find out why their sauces were so delicious yet different from my dad's sauce. I soon learned that my Aunt Nancy, my dad's sister in law, liked adding sweet Italian sausages with sliced peppers and onions to her sauce which made it sweet yet savory. While my Grandma Gee, my dad's mother, always caramelized her onions then added the garlic and a can of Budweiser beer. Each had their own way of doing things but still ended up with a delicious-y unique sauce.
Current Mood:

nostalgic